OCTOBER 2016
GIRL POWER
Girl Power! This Jay-dar is dedicated to all those "nasty" talented ladies we love so much. Whether it be my latest NYC building crush designed by Annabelle Seldorf, our own new apartment in Hayes Valley designed by local favorite Anne Fougeron, or fabulous artisans Amanda Wright and Meyghan Hill that we will be showing in JayJeffers – The Store next Wednesday. I say hats off to the Girls!
| | |
| --- | --- |
| | PROJECT |
HOME SWEET HOME
Home sweet home… no sleepless nights when you've personally picked out the perfect bedding, lighting, paint color… you get the picture. 400 Grove, designed by accomplished architect Anne Fougeron, is dynamic, split in two, opening to an inviting interior courtyard and a facade of wave like windows to mimic bay window vernacular. We are proud to call it home, to invest in the space and make it feel authentic to us. Authenticity is at the core of successful residential design.
| | |
| --- | --- |
| | SPOTLIGHT |
(WH)ORE HAüS STUDIOS
Former model Meyghan Hill empowered herself battling adversity with a blow torch! Buckle up she's offering sexy chic!
| | |
| --- | --- |
| | SPOTLIGHT |
AMANDA WRIGHT
Echos of Amanda Wright's background in fashion playfully prevail in Servitude – a pottery and lighting line that hints at the naughty in our nice.
| | |
| --- | --- |
| | TRAVEL |
NEW YORK CITY – BUILDING PORN!
While I'm in New York several times a year, my last trip was incredibly inspiring. The weather was beautiful and the rosé was flowing. I first discovered Annabelle Seldorf as my good friend Jamie Drake has a fabulous apartment in a building she designed. I came across two others on this trip and when asked who designed the building, it was none other than the genius herself!
10 Bond Street is a feast for the eyes – not to mention that my favorite new men's store (gotta give the men at least one plug here) Boglioli is on the ground floor.
And then of course there is the David Zwirner gallery – this Seldorf building is a work of art in itself.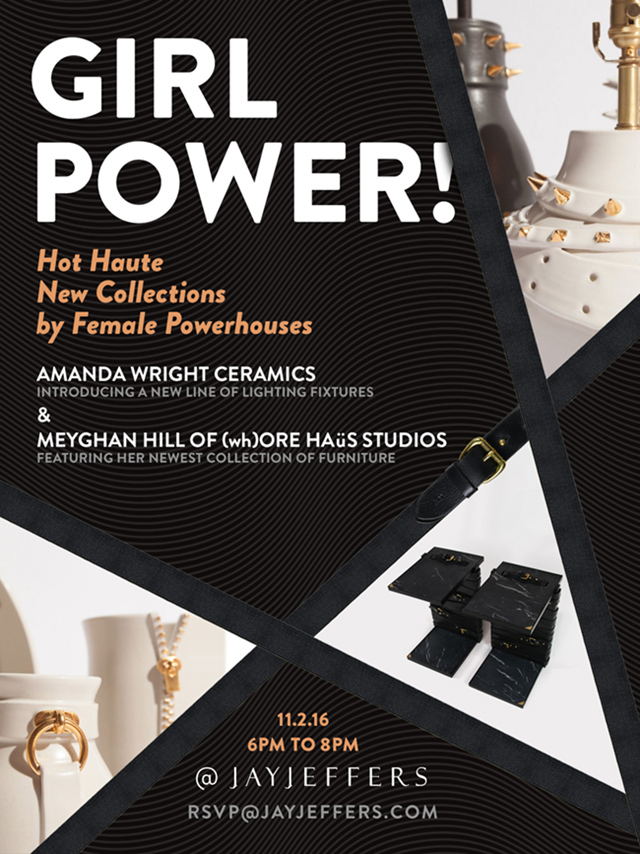 | | |
| --- | --- |
| | EVENT |
2016 FALL ANTIQUE SHOW
The San Francisco Fall Art & Antiques Show is the oldest continuously operating international art and antiques show on the West Coast. The Show features approximately sixty dealers from across the United States and Europe, offering for sale an extraordinary range of fine and decorative arts from around the world representing all styles and periods, including furniture, silver, ceramics, glass, jewelry, rugs, textiles, paintings, prints, photography, books, sculpture and objets d'art.

Warning: Invalid argument supplied for foreach() in /var/www/vhosts/jayjeffers.com/httpdocs/wp/wp-content/themes/mirza-mobile-2020/page-jaydar.php on line 418

THE LATEST FROM INSTAGRAM
Please add info@jayjeffers.com to your address book.
Jay Jeffers, 1035 Post Street, San Francisco, California 94109